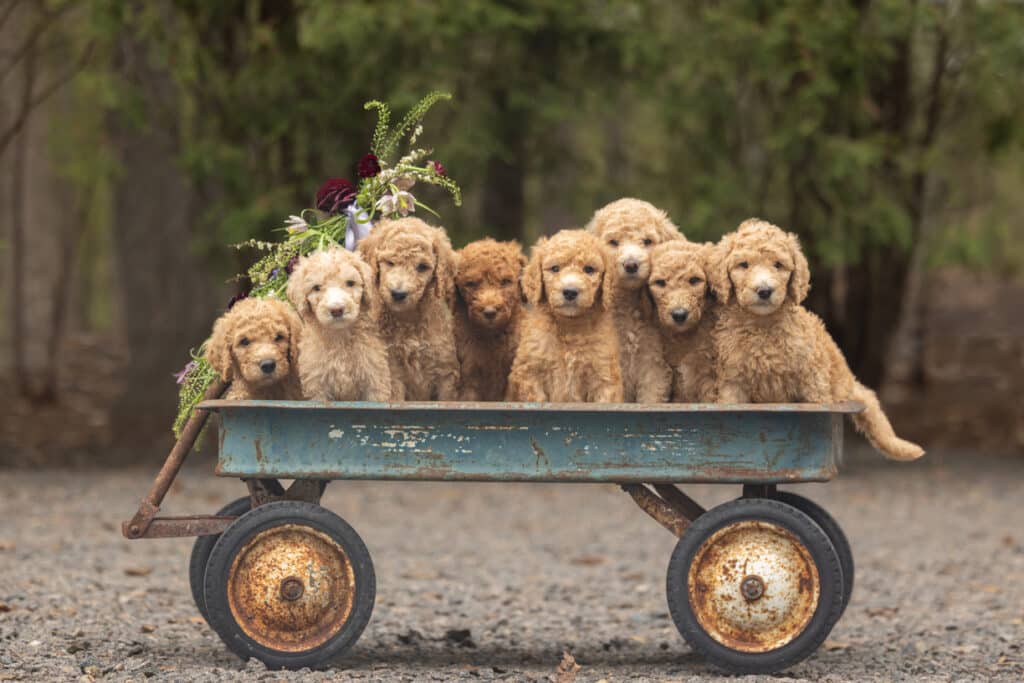 Back in the winter time I was contacted by a foster mom who was fostering a pregnant dog. The dog was a standard poodle named Bee and she is just the sweetest, mild mannered dog. Her foster really wanted photos of her pregnant to showcase this beautiful mama. I happily agreed to donate my time for dog maternity photos, because how fun is that! Mama Bee and her pups are all part of Under Dog Rescue MN
A few weeks after our snowy sunny dog maternity photos mama Bee gave birth to eight beautiful puppies. Unfortunately Bee had some complications after giving birth and spent much of her "maternity leave" back at the vet under supervision and undergoing several surgeries. Her foster mom stepped up and bottle fed her sweet babies. One who had an issue with eating due to a cleft lip and will require further attention before being adopted out after her siblings
The wildflower litter names are: Violet, Snap Dragon, Trillium, Zinnia, Sweet Pea, Aster, Primrose and Cosmos
about a week and a half after they were born we decided to do some "newborn photos" of the puppies. Some were showing signs of opening their eyes, all of them were wiggly as can be. We used similar flowers from mama Bee's beautiful flower collar for their photos.
After their newborn pictures I came back for photos of the puppies for their adoption profiles. They go up on the website at about 7 weeks old and then are available to go home at 8 week. All of the puppies are purebred standard poodles. Mama came from a poodle and doodle breeder surrender situation.
Mama Bee is still looking at a long road to recovery with more surgeries in sight, Sweet Pea will need to stay in rescue for a little longer than her siblings to make sure she is healthy enough to be adopted out.
At this time about half the pups are set to be adopted but make sure to check Under Dogs website to see if any are left.
See below the dog maternity photos of mama Bee the newborn puppy photos and then their adoption profile photos.