Do you need some dog maternity photos in your life?
I know I did! Foster poodle Bee with Underdog rescue had her day in the sun during her dog maternity photos
Who says humans are the only ones who get to bask in the glow of being an expecting mama?
Bee was surrendered by a breeder and happened to already be pregnant. She's is expecting her little poodles anyday now. Her foster mom wanted to do something special for her because Bee is just the sweetest kindest most chill pregnant mama you ever meet.
When Bee's foster contacted me about doing dog maternity photos I was all too excited, and of course said yes. I am always happy to do rescue photo for local fosters but I was extra excited to get to do a maternity session.
Since her name is Bee her puppies will be named after wildflowers, and although there's no sign of flowers popping up in minnesota anytime soon we decided to incorporate flowers into her session. Bee's foster had her florist friend create a beautiful floral collar for Bee to wear for her maternity photos. Go check her out at PouvoirDesfleur
We started our session instead, Bee is sweet and gentle and she preferred to be right next to her foster mama. Getting her to stay away was probably the biggest challenge for her session. After basking in the warm sun through the bright windows we headed outdoors into the cold Minnesota snow. Bee could care less that it was barely pushing 20 degrees. She was a natural. Her fluffy ears were happy and bouncing and her ribbon on her flower collar was flowing in the wind
Once Bee has her babies we will meet again to do photos of her precious newborn pups so stay tuned! I honestly can not wait.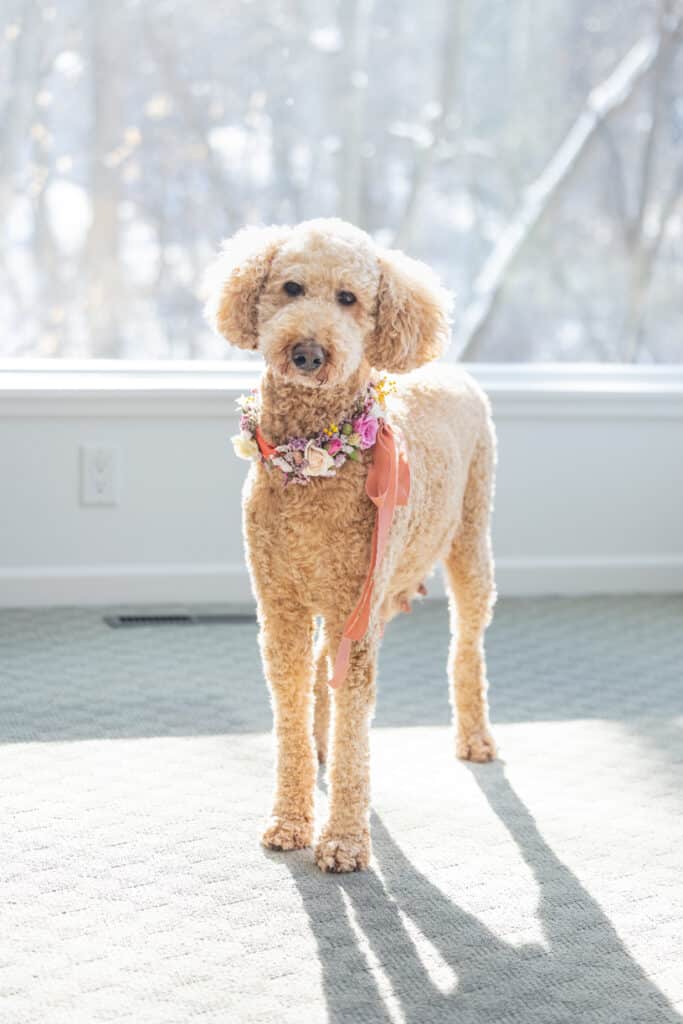 As a pet photographer I love volunteering my time with local rescues so if you have a foster dog needing updated pictures for their adoption profile please feel free to reach out by filling out my contact form or emailing [email protected] And I am always down for doing more dog maternity photos, they make great content for local rescues 😉